Bradford District Care Trust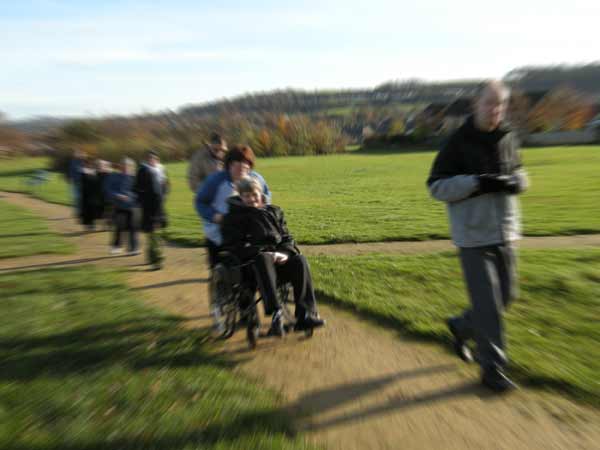 Commissioned by Bradford District Care Trust, the Photography workshops were for a group of Adults with a Learning Disability. Based  in the new Cottingley Cornerstone Centre, Bingley West Yorkshire.    Workshops ran for 40 weeks and were split into 4 ten week projects.  The participants learnt basic digital photography techniques.  Using symbols and signs to understand and develop each project and learning other new creative skills.  The group named themselves "COTTINGLEY CAMERA CLICKERS".  We started off with photographing things in the local community, Cottingley was to undergo a redevelopment so it was interesting to go back to this project at the end of our workshops.  The workshops have given participants confidence and self belief and a real purpose. 
"As part of providing a range of challenging and exciting community based day time opportunities for adults with learning disabilities for people who use our services, I was pleased when we secured funding to set up a year long digital photography course, based at the Cornerstone Cottingley Community Centre.  Our tutor for the course, Dawn Robinson, was fantastic!  She delivered a programme of bespoke workshops, based around identity and inclusion within the local community.  For many participants on the course, this was their first experience of using photography and of working within a community based setting, rather than a day centre.
Dawns' sensitive and creative approach to working with the students enabled them to produce some brilliant results and was an enriching experience for all those who took part."   Andrew Waller, Project Manager
Project:  THE COMMUNITY – Exploring the local community, looking at shops and the things that they sell.  Learning how to hold the camera and what to include in a picture.   A montage was created using all the photographs taken.
Project: IMAGE – Discovering what we like, our hobbies and our emotions. We took photographs of each other and put our best pictures into albums.
Project: THE COMMUNITY – REVISIT
The photographs here have all been taken by participants of  "COTTINGLEY CAMERA CLICKERS".  Some fantastic images which show the photography techniques learnt by everyone.
Project – YEADON TARN
Our last project showing Images by the group.  The photographs have been taken really well, participants have learnt how to hold the camera, basic compositional techniques along with how to take close up shots.  A lovely end to a truly rewarding project.